Overview:
In this article, we will delve into the details of tender packages, their significance, and the benefits they offer to construction professionals and organizations.
What Are Tender Packages?

Tender packages are a fundamental component of the construction industry, primarily used by main contractors seeking to distribute work to specialty contractors or subcontractors. The main goal is to request pricing from these specialized contractors, allowing the main contractor to estimate the costs associated with the project accurately. Typically, main contractors assemble a package of documents related to a specific part of the project, send these documents to several contractors, and ask them to submit their prices for the work. This competitive approach ensures that the main contractor secures a reasonable price, ideally below their initial cost estimates, providing a margin for profit.

A "Tender Package" in Fonn serves as a comprehensive solution for streamlining the tender process in the construction industry. It encompasses essential elements such as multiple documents, a well-defined Request for Proposal (RFP), specified deadlines, and an award date. The convenience of sending these packages to companies is a standout feature, allowing for seamless communication without the requirement of a Fonn account on the recipients' end, thereby simplifying the entire process.

Challenges with Traditional Tender Packages

Traditionally, these packages involved labor-intensive processes. All drawings were printed, placed in envelopes, addressed to the subcontractors, and sent via postal services. This manual process included numerous steps, such as printing multiple copies of drawings, purchasing envelopes, affixing postage stamps, and manually tracking all incoming documents. This entire workflow was time-consuming and error-prone.

Introducing Tender Packages in Fonn

Fonn aim is to simplify the tendering process, offering significant advantages over traditional methods.

Here's

how they work:

Digital Distribution: Instead of printing documents, Fonn allows the main contractor to upload and distribute all project-related documents electronically. This eliminates the need for printing, physical envelopes, and postage costs.

Efficient Pricing: Subcontractors can submit their pricing directly on the platform, which streamlines the process. This also ensures that all submitted prices are easily comparable, enabling the main contractor to make informed decisions quickly.

Anonymity: Tender packages in Fonn offer a level of anonymity, so subcontractors do not know who else is bidding on the project. This feature prevents price-fixing, ensuring a fair and competitive tender process.

Enhanced Document Management: All documentation, including method statements, risk assessments, health and safety policies, and previous work examples, can be attached digitally, streamlining the entire process.

Streamlined Updates: Drawings and documents can easily be updated in the RFP and distributed with a few clicks to all bidders. Bidders can also easily update their bids based on new the information available.
Digital tender packages represent a significant leap forward in the construction industry, offering improved efficiency, cost savings, transparency, and enhanced document management. By eliminating time-consuming manual processes and streamlining the entire tendering workflow, Fonn provide value to both main contractors and subcontractors. As the construction industry continues to adopt digital tools, it's essential for professionals and organizations to embrace these innovations for a more efficient and competitive future.
How Tender Packages work in Fonn?
If you're interested in using Tender Packages, please begin by reaching out to your Customer Success Manager to ensure that this module is enabled for your account.
Once confirmed, you can enable Tender Packages for your organization and individual projects. Here's how:
Enabling Tender Packages in your Organization:
Go to your Organization>Settings>Features, scroll all the way down and you'll be able to enable Tender Packages for your future projects: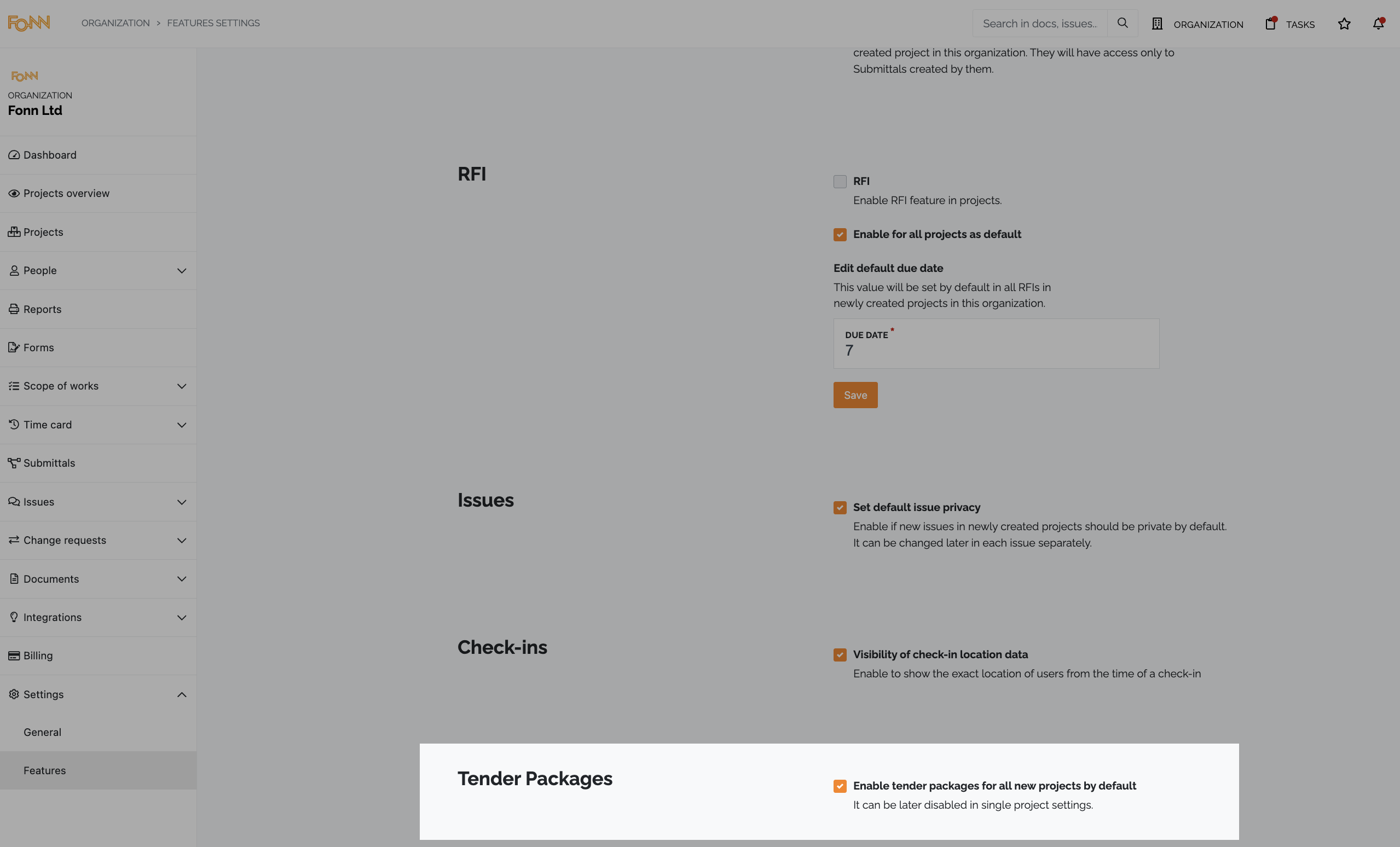 Enabling Tender Packages in your project:
Navigate to Project Settings>Settings, scroll a bit and you'll be able to enable Tender Packages for this particular project: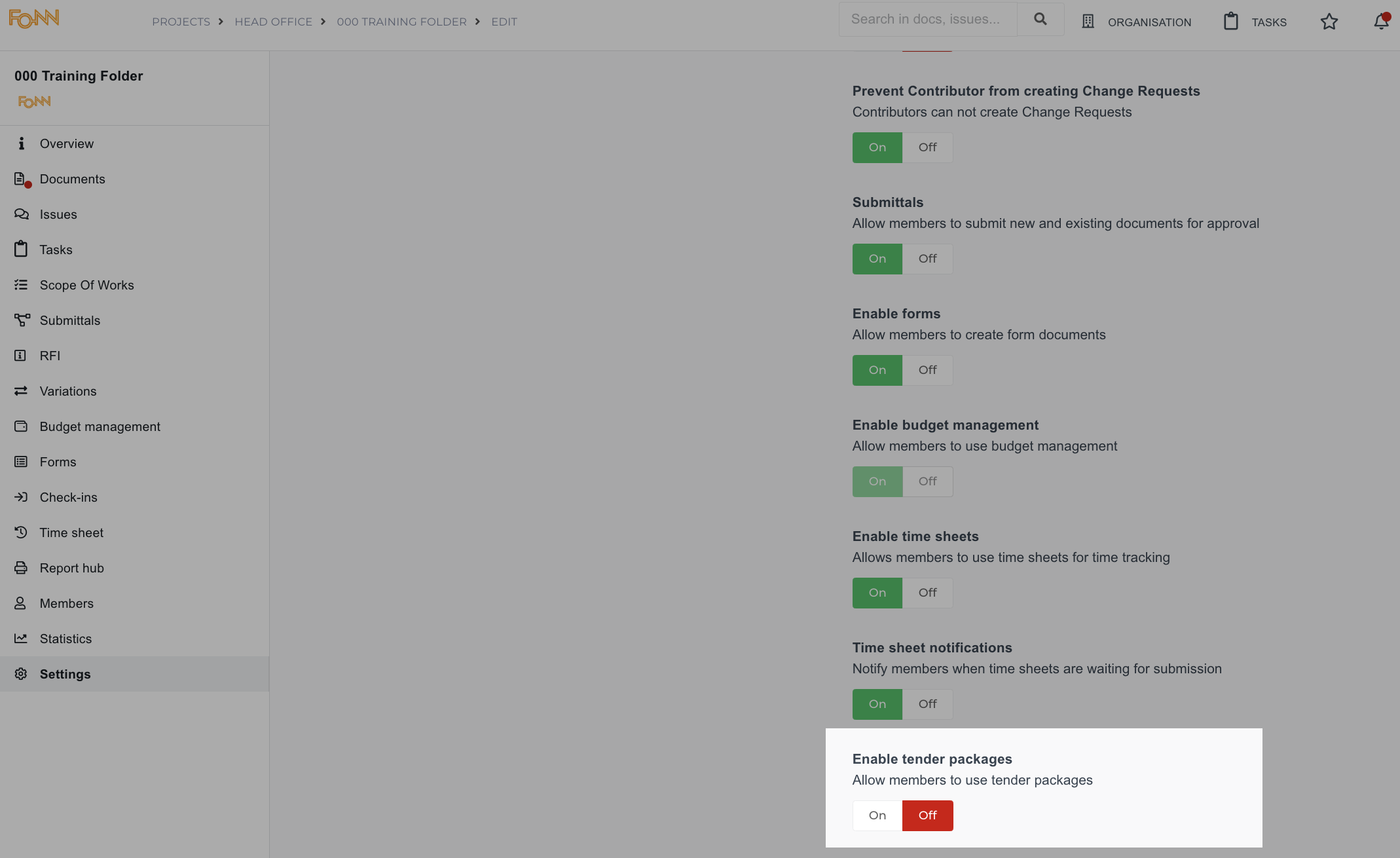 To create your first Tender Package, follow steps below:
Navigate to the project's Tendering tool.
Click on "Create Package":

3. Enter required information: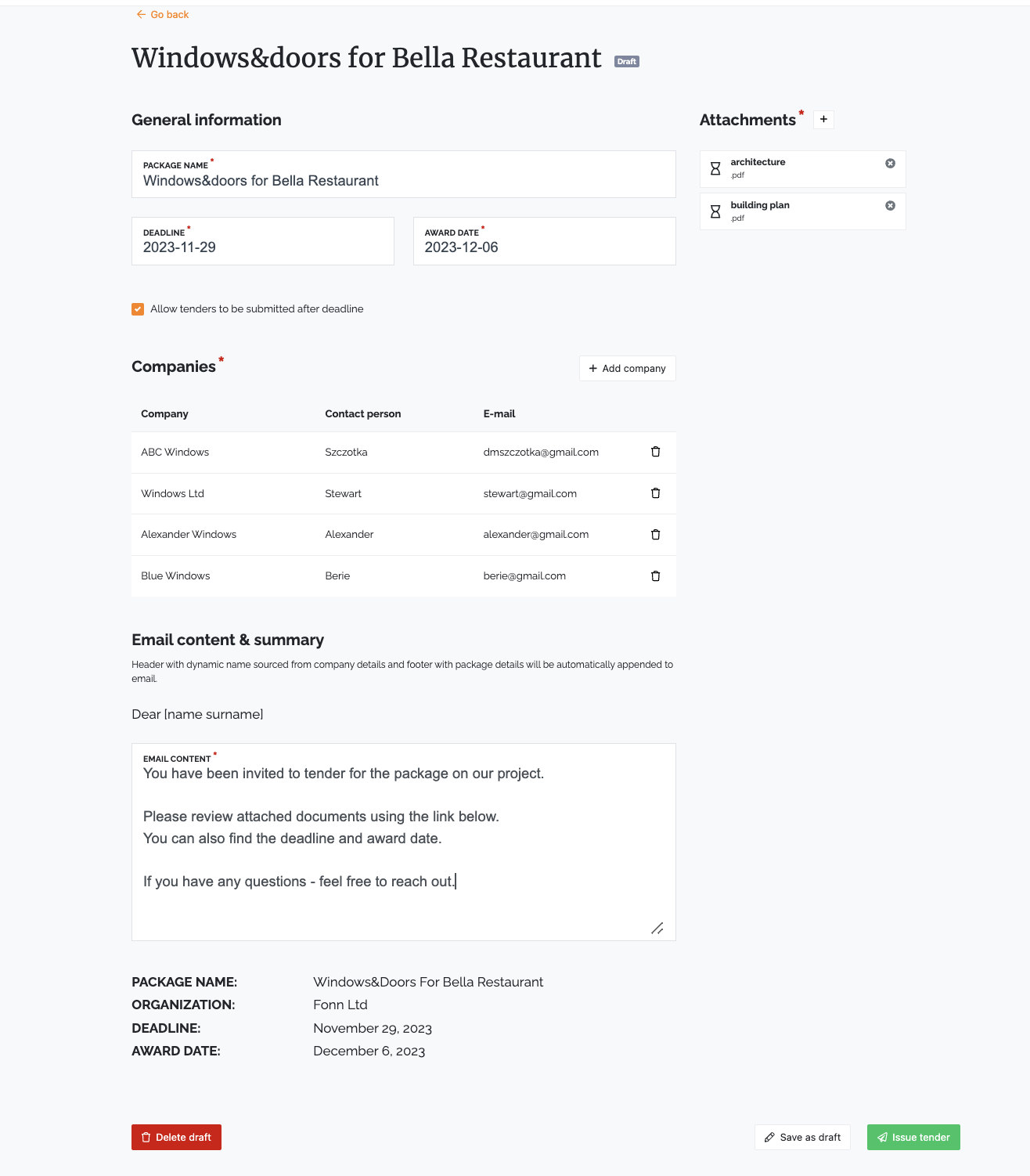 .
4. Once everything is set up as needed, click on "Issue tender." This will trigger an email notification to all the recipients: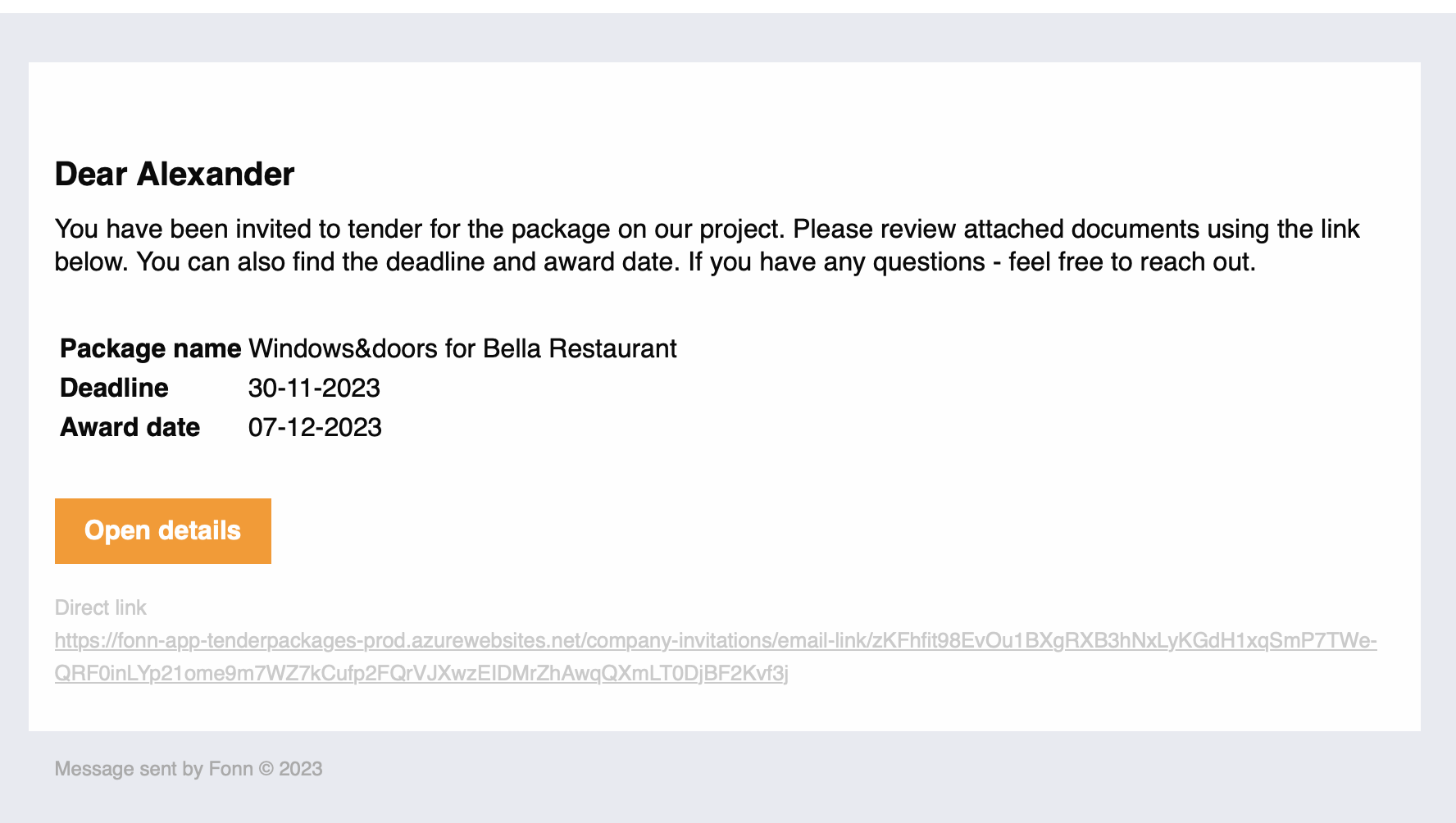 5. When a recipient receives the email notification, they can click on "Open Details" to fill out all necessary information, add package value, and attach any required documents: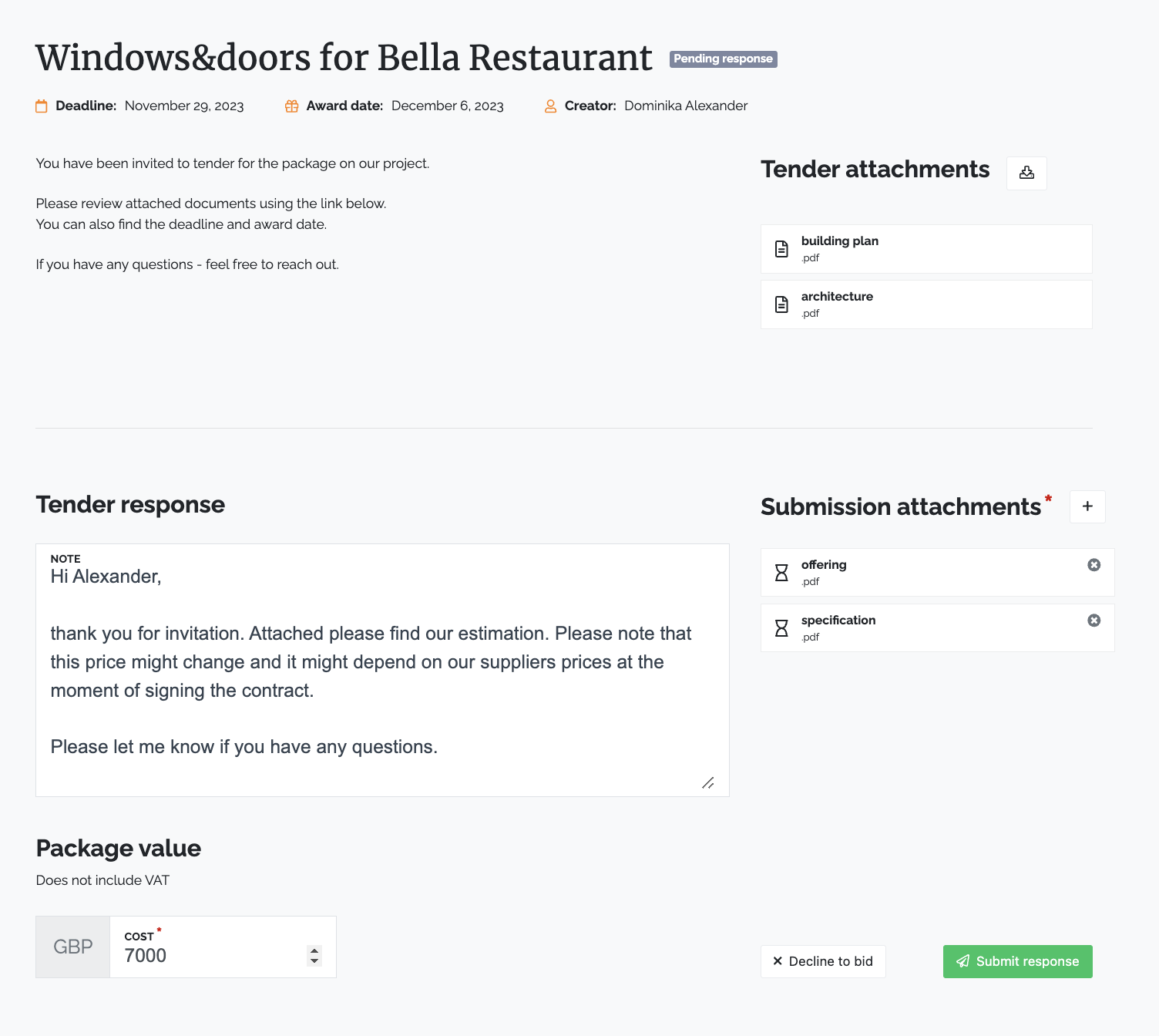 .
Stay tuned for upcoming developments in Fonn's Tender Packages, including streamlined communication features. Exciting changes are on the horizon!