Content
After the contract has been signed
The process of getting started with an organization and the creation of a checklist template can now begin.

The first step to getting your organization ready, is creating Fonn accounts for all employees who should be a member of the organization.
Fonn accounts can be created at app.fonn.io

Once the accounts have been created, the organization itself must be created by a Fonn employee. Contact your Fonn representative, with a list of the members who should be included in the organization and which roles they should have, aswell as the preferred name of your organization. If you want a custom checklist template, you should also send your current checklist to your representative, so we can create a Fonn checklist template based on your checklist.
After the organization has been created
When the organization has been created and the members have been added, you as an administrator will see a new button named Organization when logging into your account:


This is where you can change the different settings in your organization.
The first step to this is filling in your billing information for the organization. This will enable invitations in all future projects in the organization.
You can find the billing information like this:
1. Click the Organization button
2. In the navigation bar on the left, click Billing
3. Fill in correct information
There are a lot of possible changes to make in the organizational panel, so it can be useful to go through the settings with your Fonn representative.
The Organizational panel: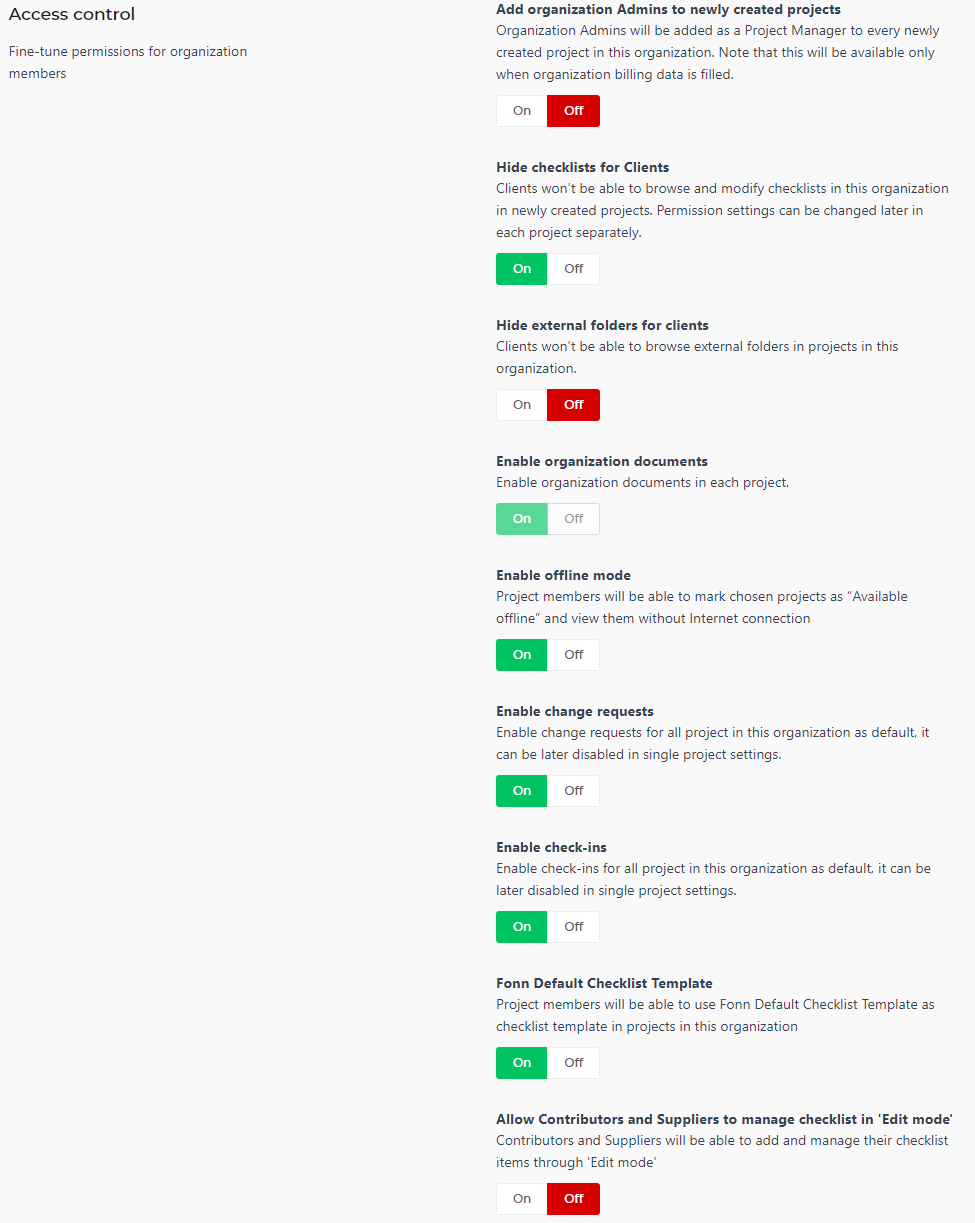 If you prefer doing it on your own, there are articles available here.
After the organization setup has been completed
You, and all other members of the organization can now start creating projects.
If you created any projects before setting up your organization, the settings done in the panel will not work retroactively. The projects can however be added to the organization manually.

All projects created by a member of the organization will be part of the organization, unless specifically selected to not be. Projects in the organization will have the organizational logo present on the dashboard, and all settings in these projects will be based on organizational settings.
With newly created projects, you can now start using Fonn for your projects and communication.
If you experience any problems or have any questions, be sure to look around at the other articles, or contact us directly through the live support chat in the bottom right corner.