Overview
Check-ins: A quick introduction:
Check-ins allow the user to manually provide a check-in for the project location. This notes the user, the time they checked in and out, and the duration spent at the location.
How do I check in?
Please Note: Geofencing messages relating to checking in outside of project radius will only be triggered once Geofencing status is toggled ON. Please refer to Geofencing - How do I set it up? for more information.
To check yourself into a project follow the below steps:
Open your app


Log into Fonn


Select your project




Tap the check in toggle
If you have geofencing set up, then you will see a message on screen relating to whether you are inside or outside of the projects set area.

For more help on Geofencing, see the bottom of this article.


Next, confirm your check in time.


6. You are now successfully checked in.


How do I check out?
Tap the check out toggle
Add any comments if you wish then click Check Out.


3. You have now checked out of the project.
Can I check other members into a project?
Yes, if you are setup as any of the user types mentioned below, you can check members in & out of projects.
Admin
Project Manager
Supervisor
On your app, tap the 'On Site Check-In' button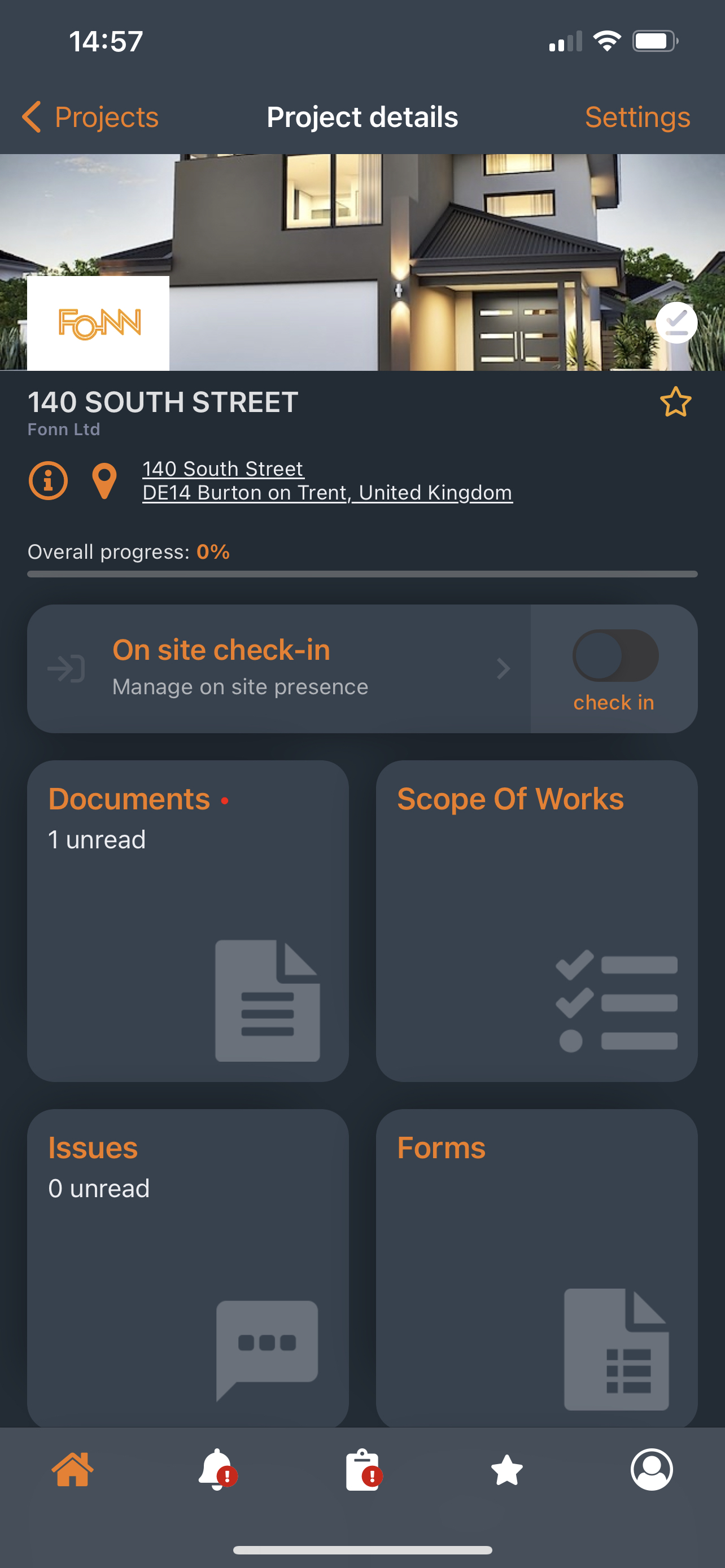 2. A project member list will appear.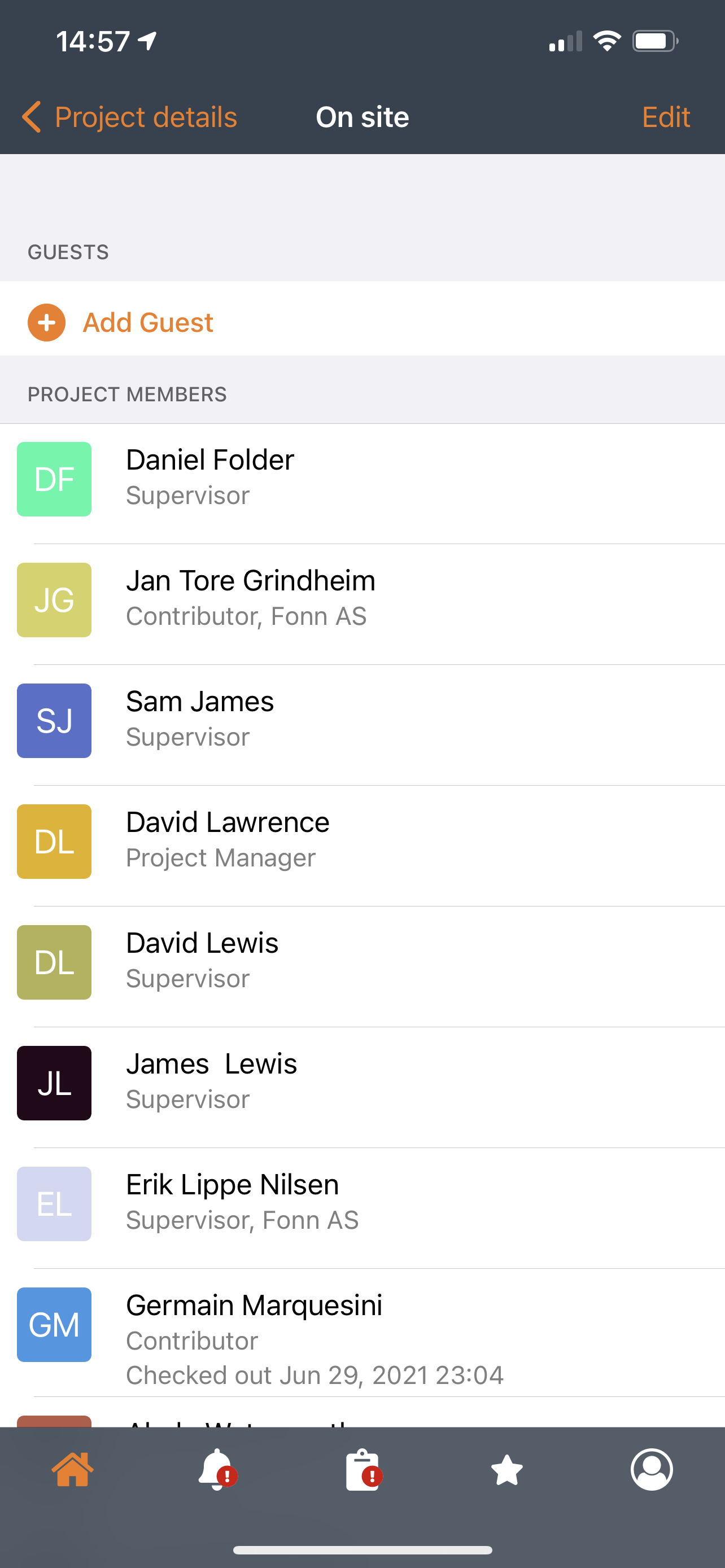 3. Tap or swipe on a member, then click Check In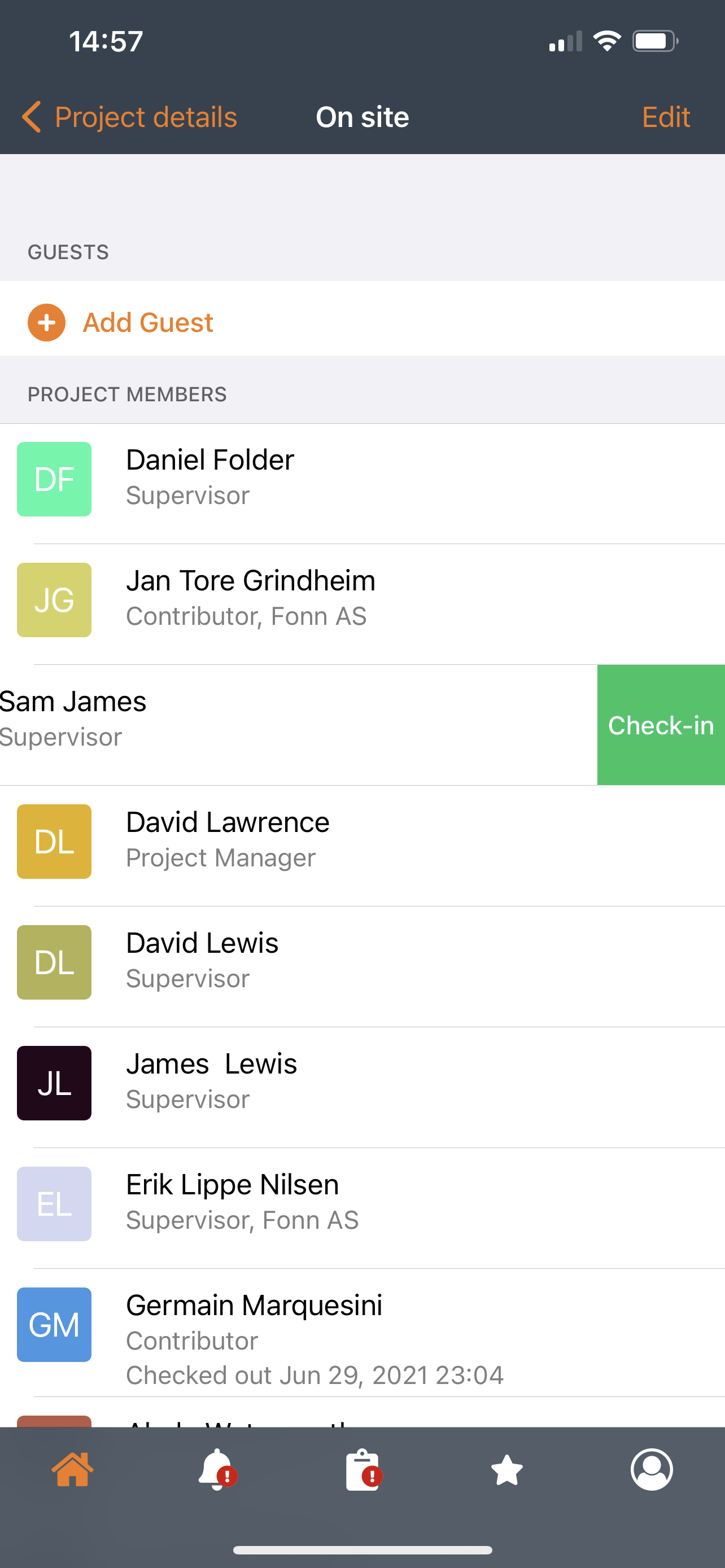 4. Confirm the check in time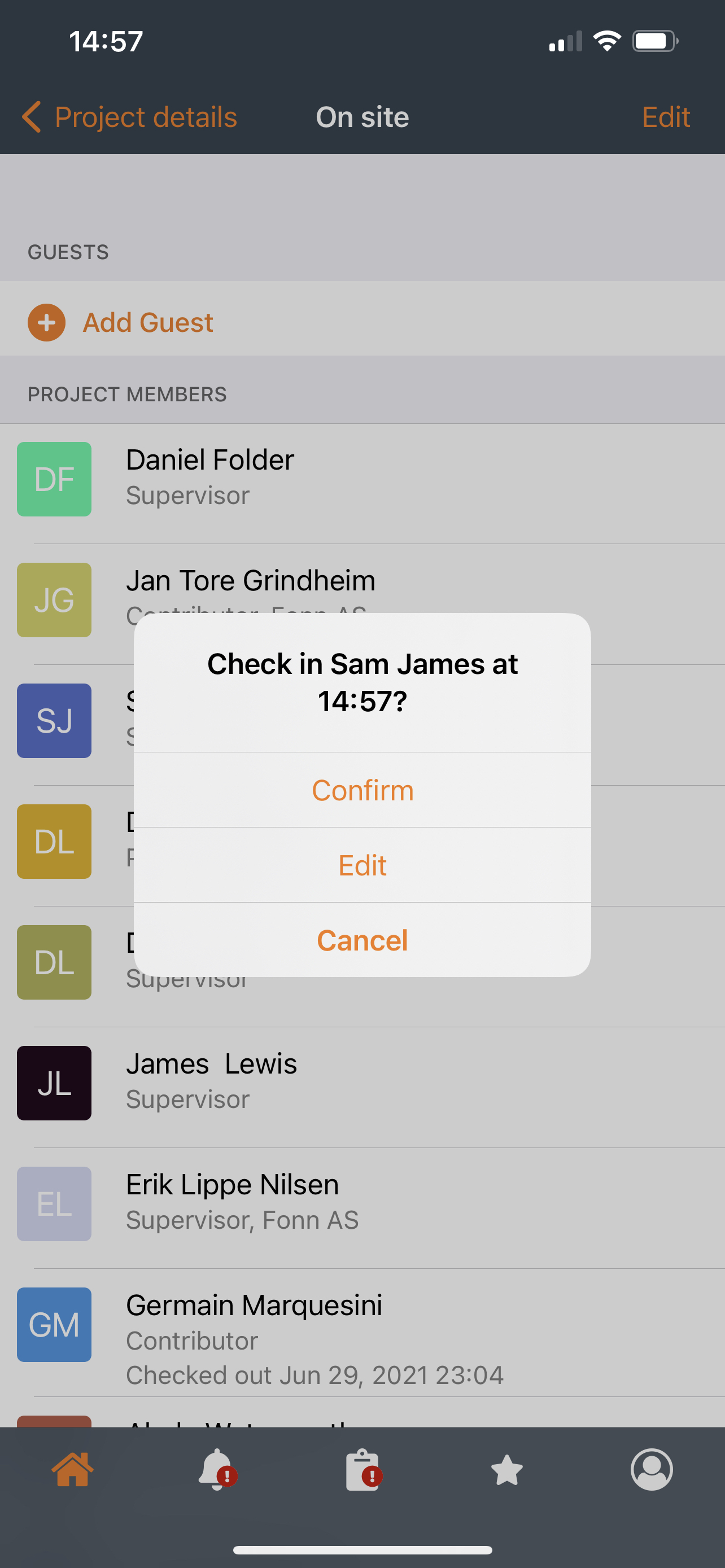 5. Your member is now checked into the project.


6. Repeat the process to check this user out.
Adding Guests
You may need to check in visitors or inspectors etc on site. Here you can use the + Add Guest button shown below, you will be asked to enter some details then click Confirm.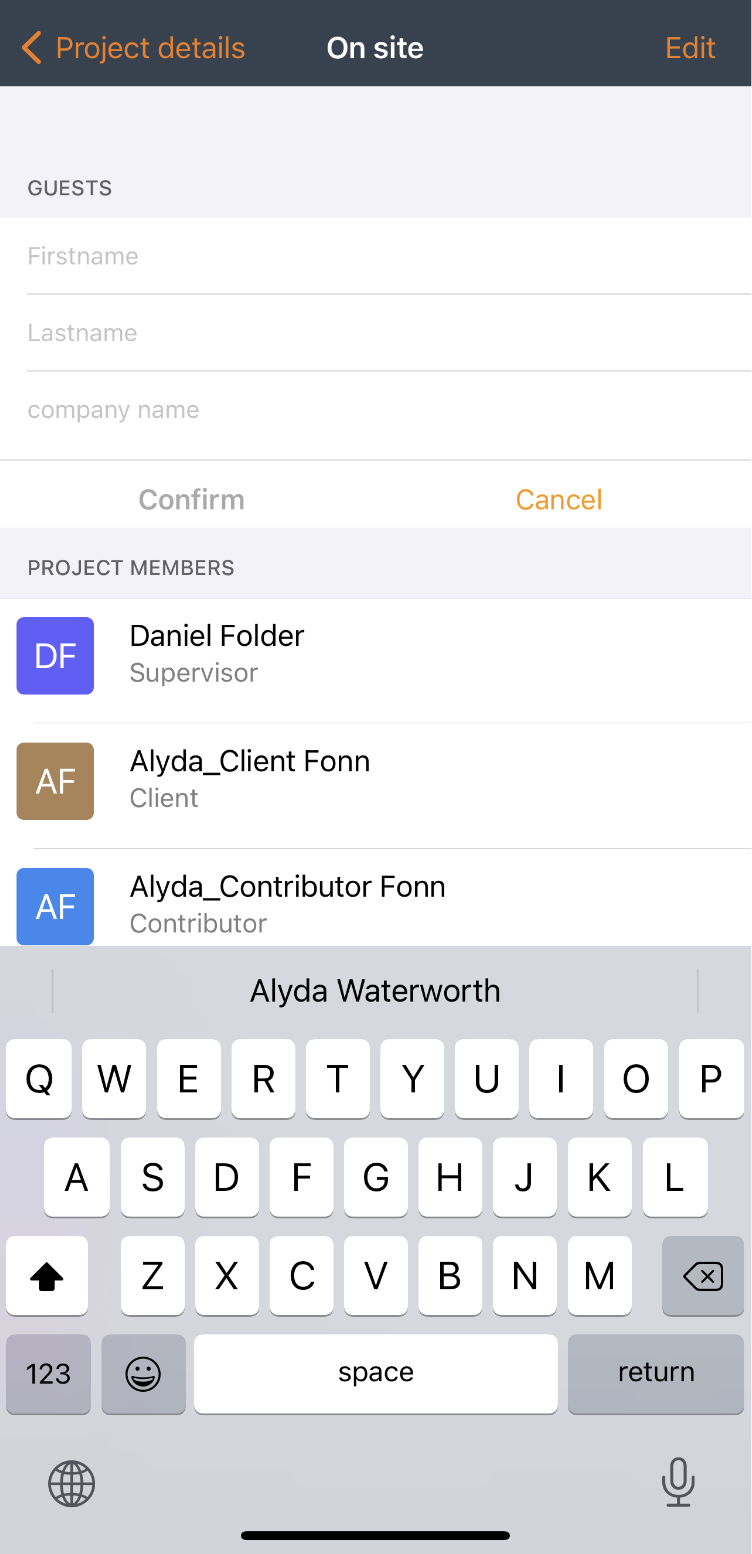 Can I view who is on site now?
Select your project
From the left hand menu > Select Check Ins
Set your date range (we automatically show you the week to date.
Here you can see a live snapshot of who has checked in and out between these dates.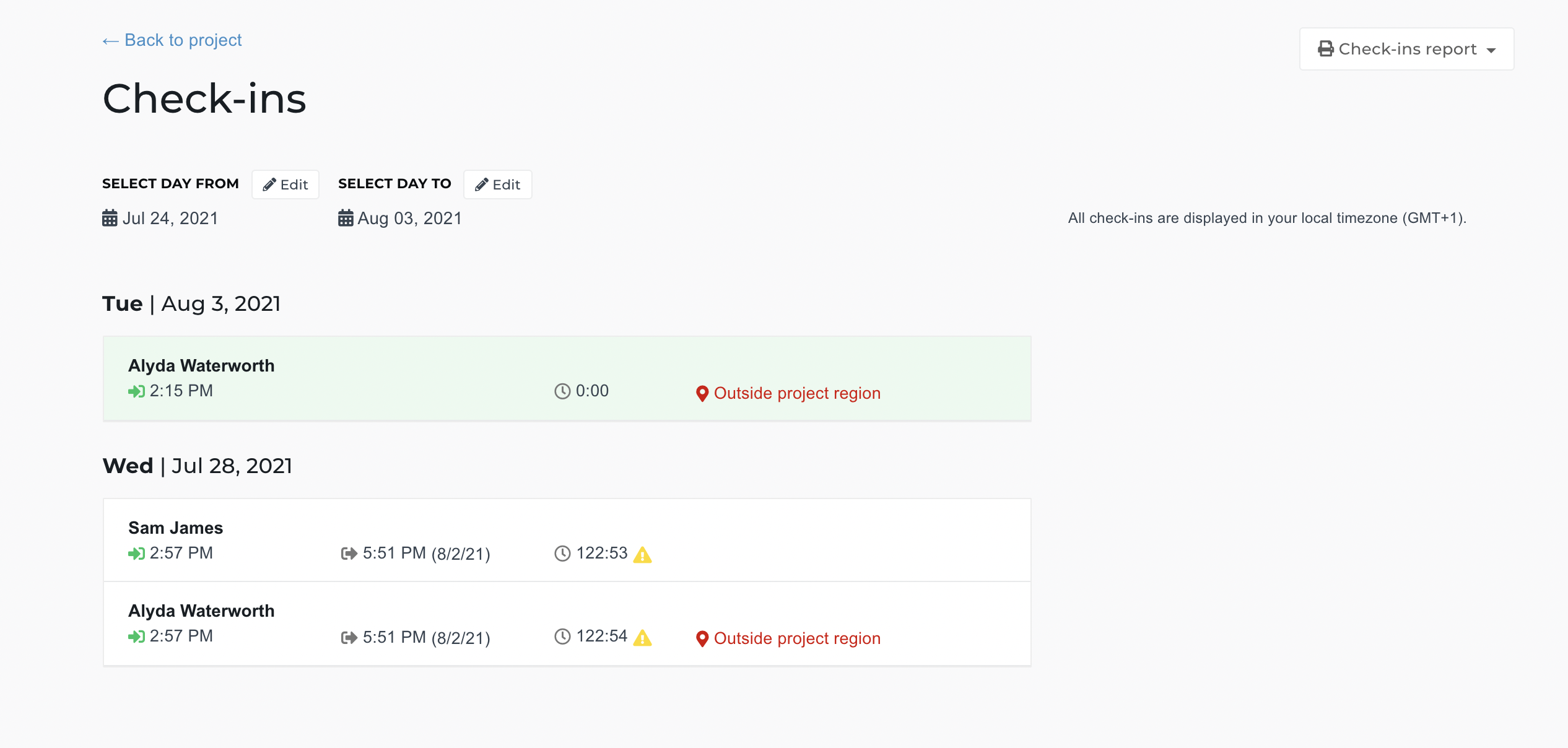 Can I pull a report with Check In details?
On your desktop, open your project.
On the left hand menu, click Check Ins.
Here you will see an overview of all members checked into your project today.
Click the Checkins Report button on the top right
Select a date range & whether in pdf or excel


6. Your report will then be generated and available for you in the Downloads toolbar.
Geofencing
Geofencing enables visibility of project members' location when checking into a project. This allows you to see if the check-in was made inside of the project's set area.
How does it work?
It works by picking up your location using your devices' location settings.
The user must accept the location services on the device.
How do I set it up?
Only users with Admin, Project Manager or Supervisor permissions can setup Geofencing. The initial setup must be done via the web app/browser.


Follow the below steps to complete the setup:
Select your project


On the left hand menu, click Settings then select the Localisation tab


Turn the status toggle to ON




On the map, you can click the 'Pan to current location' button to zoom into your current location. Then using the tools within the map (dots around the circle) find your project and set a radius around it. You can see your current radius measurement on the right hand side.



We recommend setting a 50m radius, this is to stop members from gathering in 1 spot to check in on site.


Once done, click Confirm Changes


Your project area is now set.
In accordance with GDPR Regulations, you have the option to turn off the map location link.
We will still display whether the user was inside/outside the radius, but the link will not be accessible

Check-in using QR-code
Make check-in easier by hanging physical QR codes at your construction site.
More information on how to generate QR codes for your projects can be found here.